Hello! So I finally have time to blog! :) I went to King of Prussia with my boyfriend yesterday for my birthday and I wanted to share what I got. I decided to split this up into 3 separate parts so it's not so overwhelming with pictures. First of all my birthday was fabulous! As you know, I got myself a new car, and I'm going to wait on telling you what it is until I talk pictures and stuff. It's beautiful! :D So that was like a birthday present to myself, and that's where a lot of my money has been going and my time... but anyway, that's why I haven't been able to haul a lot lately, but I did save up cash and thanks to the boyfriend for giving me a substantial amount of money for shopping I was able to get everything I wanted, and more... :) <3 him!




So anyway, I miss you girls, and I'm sorry for the lack of comments and such, I promise I'll have more time now. :D




I guess we can start off with my haul from Victoria Secrets. It's a small haul, because unfortunately everything I did order was on back order... grrr. So I'm still waiting on them to come... But I did manage to get this beautiful hoodie. I set my eyes on it, and it was love at first site







Details of the back




Front




Also they have like this whole collection of cupcake undies. I really should have bought 5 for $25 but I feel like I have so many panties, I don't need any more, but when I saw this one... it was love...




Gosh, Vicki's, you're making me broke!

My one friend I work with was wearing these adorable flats with ruffles on them, and I asked her where she got them from, and lo-and-behold, Payless! I haven't been to Payless in years! I completely forgot about that place!! haha. So of course, I had to get them, and plus they were on sale!!!




This pictures makes them look grey, but they're actually black... grr@camera




I also headed to Wet Seal, I got a ton of stuff from there, so I'm not posting everything, I'll do it in another part post... but here are some stuff I did get...

Adorable ruffle belt... too cute for words, they have it in white also!




Close up...




Also got this loooong shrug/vest/cardigan, whatever you wanna call it... Can't really see it well..




FINALLY, a pair of sweater boots!!

Up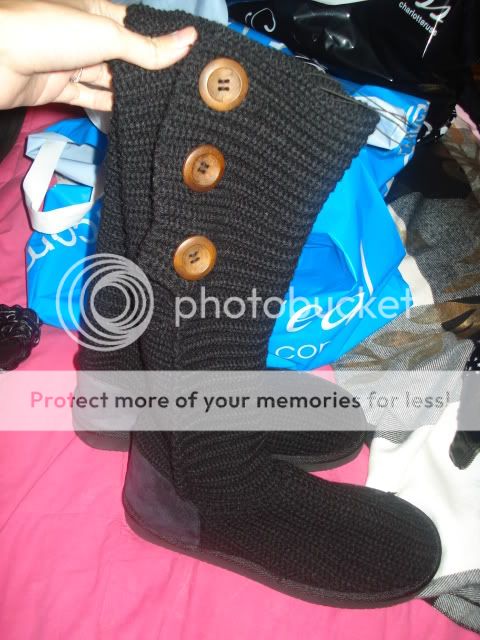 Or folded down




A long grey cardigan, a staple in your wardrobe!




The dress I'm wearing out this saturday night for my birthday party...




I haven't decided how I wanna wear it yet, but I was thinking with my leather coat... We'll see, I'll do different outfit variations, take pics, and then decide, I'm such a loser..




I absolutely love this, it was super cheap, and it's so comfy




These are just long boyfriend-fit tees...
White



and black



Gorgeous flower ring




This necklace was only .99!




I also went to Charlotte Russe... I also have more from there, but I'll do it in other part post..

Long tunic, actually looks cute on, most of the long tunics banded at the bottom look stupid on me, and I don't even bother trying them, but this one looks cute!




Long navy sweater dress




This shirt was on clearance for $4.99!




This sweater dress was on clearance for $4.99 as well!!




Sweet deals!!

I love this belt




Cute.. for $2.99 each




Heart ring




Earrings I'll wear with my dress this saturday


Ok that's it for Part 1, Hope I didn't slow down your computer too much! lol.. Hopefully part 2 tomorrow WITH video!