Happy Tuesday!
A couple of days ago I received the Ipsy Glam Bag. The middle of the month is my favorite time because of this glam bag! I love testing out new products and I love that I only have to spend $10 a month on doing that!
This month's glam bag was pretty awesome! I've tested out all items but two.
I love the look of this Ipsy bag, but it has an awful smell to it, I can't even tell you what it smells like because I honestly have no idea! :/
#ipsy - I couldn't think of anything better. :) Who doesn't love new beginnings?!
This month glam bag subscribers got a lot of "fresh products", at least in my opinion.
Proactive cleansing wipes, facial lotion, hair mask, eye pencil and light pink tinted lip balm.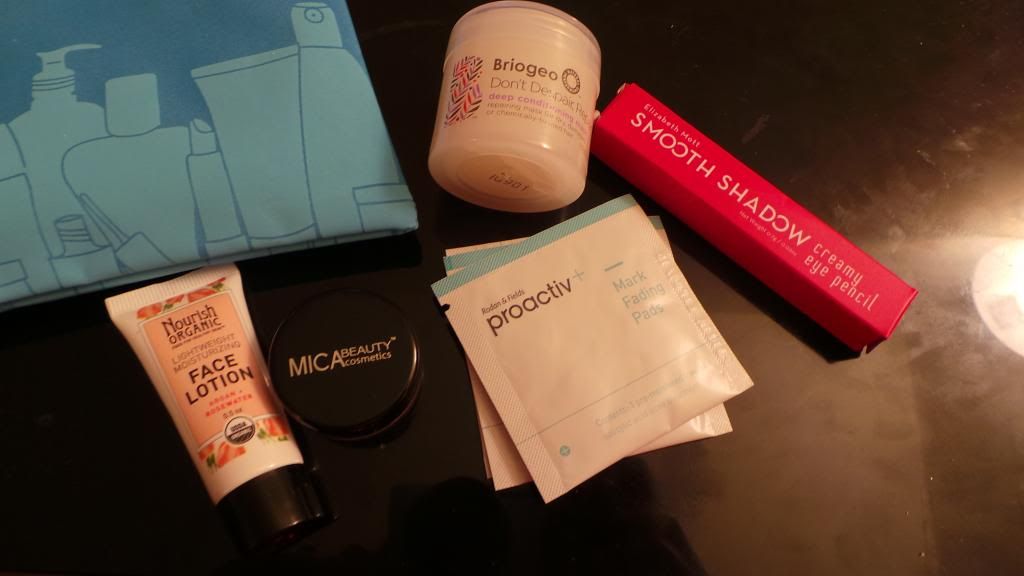 I have already used the Mark Fading Pads by Proactiv. I used one already. It contains 2% salicylic acid to treat acne. I have to say after I used this cleansing wipe I can definitely tell it thoroughly cleaned my face of any dirt or left over makeup. I'm not sure using only 4 of the samples that it would actually give me enough time to see a difference in and marks on my face being faded, but I am giving it a try. The number one complaint I have about Proactiv is it is so hard to buy their products. I rather just go to a store and buy it than ordering it online or through the telephone. It's the number one reason I switched to AcneFree.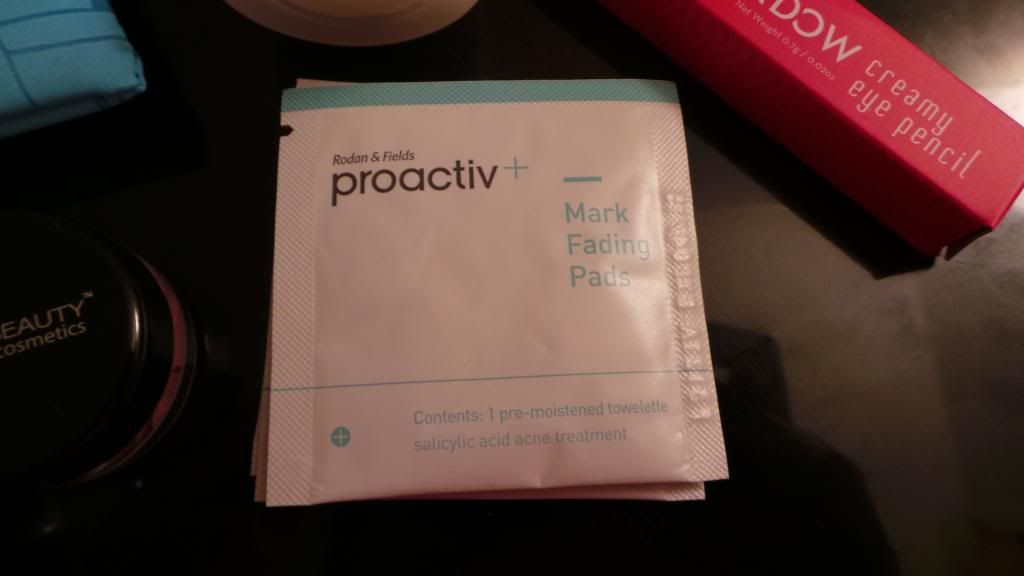 Nourish Organic face lotion. This product is 100% natural USDA-Certified Organic. It's made of Moroccan Argan Oil and it is suppose to even out skin tone and texture. I think it came in such a cute packaging! I haven't used this yet, but I will say that it does not smell good. Did anyone ever try this company before? I'm also worried with face lotion I will break out (I'm very prone to break outs).

We also received this Briogeo deep conditioning mask for your hair. I'm excited to try this as well, I will probably try it over the weekend - the only downside is the smell. I don't know what is it with the products this month having weird scents!

I was SO excited to see a Mica & Elizabeth Mott product in this month's glam bag! I have heard great things about the brands and I finally get to try them out!

Swatches of the tinted lip balm ( #6 fiesta)LEFT and the eye pencil in Pearl RIGHT

I love this eye pencil, but what you see if what you get, it doesn't even roll up! I used this on my inner corners of my eyes to make them pop.

Tinted lip balm in Fiesta.
It's a really shear pink color, just enough to give my pale skin some color!
And the consistency of this product is also amazing - SO smooth and easy to apply, not to mention you don't need a lot for great color pay off. I'd like to try other colors in the tinted lip balm.


That's my review on this month's glam bag - until next month!