First, I'd like to share my OOTD that I wore today. The fiance didn't like my shirt, but I think it's adorable, so :P at him! lolol Also, I apologize for the awful lighting, I couldn't help it, I didn't have a chance to take pictures or do a video until now, and with it being dark so early it's harder for me to do now! :/ Anyway this is what I wore today:


Outfit of the day December 5, 2010


♥ Wet Seal Cardigan
♥ Express Ruffle Tank
♥Jeggings
♥ Dots circle scarf
♥ Old Navy boots
♥ Earrings, unknown, sorry

YouTube video:




I also created some Christmas charms and also earrings.


Marshmellow Earrings:




Rudolph!




Santa




Green Present




Glitter candy cane earrings (my fav)




Green presents with some sparkle earrings


I'd also like to announce that I have a
second
blog!
Click here to be transferred
. My new blogs name is:
It's Clay
. Basically it's my other blog where I post all my
"craftiness"
.. It probably won't just be clay things, but other random crafts that I like to do. I'm not sure if many of you like seeing my posts of the new charms/earrings I post so I figure, for those of you who are interested you can follow me there. :) I'm not saying I'm going to
completely
stop sharing what I create, but instead of making a full post dedicated to it, it might just be a
preview
of what I've made. I'm not exactly sure how I'm going to work this. But this blog is going to be strictly dedicated to Fashion, Makeup, & Hauls.
But like I said, if you are interested check out my new blog
click here
, and you can follow me there! :)
Its-Clay.blogspot.com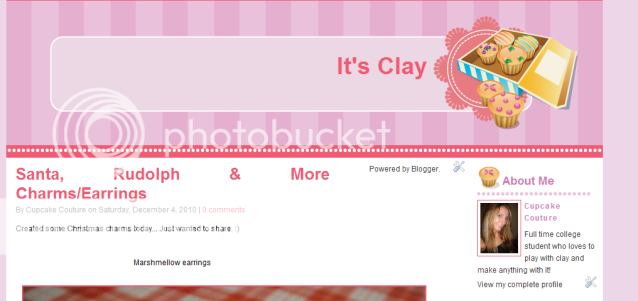 XoXo