Hello girls!!! How I missed everyone!!! 50+ followers, thank you so much!! You have no idea how much this means to me.. I just wanted to say thank you for the girls that read my blog, I really appreciate it. I really met some nice and sweet girls :)

So like I said I will be holding a contest for my followers as well as my subscribers on my YouTube account. I will announce the contest and what it will consist of when I get everything together. It'll be announced on my blog as well as on YouTube. So look for that in a few short days! :) The prizes will be awesome, I want to include Lush products, as well as make up products, and even some fun accessories!! Also, depending on how many entries I get I would like to do 1st, 2nd and 3rd prizes, but that all depends on how many people enter!!

Anyway, I'm back from the beach, unfortunately not any tanner than when I left :( We only had one nice day and that was when we got down there the rest of the days it rained. Unfortunately I couldn't take good pictures of Atlantic City because of the rain, and we stayed inside for the most part, which is a pooper, but maybe next time! But here are a few pictures from what I could get from our little get-away...




Outfit for going away: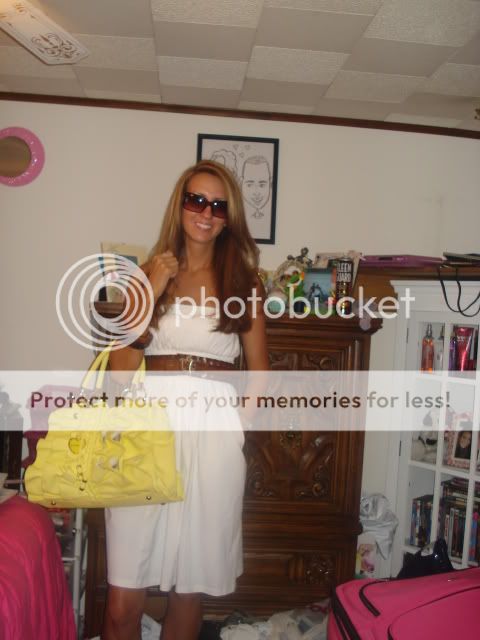 Bebe purse/Victoria Secrets tube top dress/Chinese laundry belt/Forever 21 sunglasses/Guess flip flops

Luggage!




My love in our hotel Hilton suite




Me and the boyfriend




I was so excited to see jets in the bubble bath, I made him take a picture of me in it... one day I will have them




Our view from our suite




Me, the beach, and my Juicy Couture bikini... ahhh it's love




Some kind lady took this for us




Inside the Pier Mall a store called Sugar




Me taking a bubble bath with the Lush products... omg this is amazing!! I will be giving away one of these bath bombs...




And this is some stuff I hauled while I was down there...




My new Juicy Couture charm, popsicle MmmMmMm




Guess's clearance is 50% off the lowest ticket, so I scored this wallet for $12.49!! I needed a new one




Lotsa room




Lush Haul




One or both will be included in my give-a-way




Two dresses I picked up




Bath and Body works is having their semi-annual sale... I got most of the sweet pea scented stuff for 75% off. They're doing away with this look, the guy said their going for a higher-end look... does it really matter when it's sitting in your room? "Oh you have the old-look Sweet Pea?... Scum" lol No one knows when it's sitting in your room. So I got most $2-$4 :)


Look for my contest in a few days when I get the details worked out... I'll do a video and a blog entry for it...
Love you girls!! <3