Hey girls! I hope everyone enjoyed their Memorial Day! I know I did... ate some good food and had an awesome cherry milkshake... mmMMmMmmm... I uploaded a video to youtube this morning so I'm posting now...


Also here's some pictures of the day:


My FOTD


FACE: Nothing

Eyes: Rimmels White eyeliner
Victoria Secrets Very Sexy eyeliner in Aqua under my eyes
Physicians FOrmula in their Baked Collection
Revlons Mascara in 3D Extreme
Loreals Morning Glory Pearl eyeshadow

Lips: Beauty Rush Bananas




We went out to the lake today, so calming a beautiful




Me on a Kayak...




True out-doorsmen




At some state park we found


We went to our local grocery store to find this freakin awesome Hamburger/French Fries cake... the fries were made out of cake and the buns of the hamburger were also made out of cake everything else was icing... MmMmm I wanted it so bad.. but I have to be a good girl... :(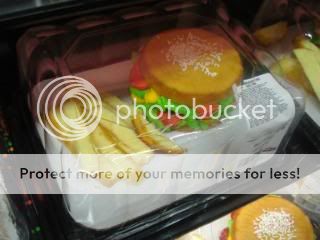 And I wore the dress WITHOUT the belt... thanks for your opinions girls!!
Ok girls, I'm off to bed, I'm exhausted, I hope everyone enjoyed their long weekend!!
<3
-Vanessa