Happy Monday!
As promised today is the day the winner will be announced for the Naked 2 palette giveaway.
I want to thank everyone who entered!
I really appreciate everyone taking the time to enter! :)
...
So
....
the winner is...
....
...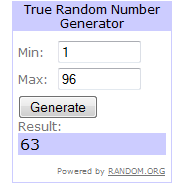 Please e-mail me!
Thank you all for who entered!
I wouldn't be doing giveaways if it wasn't for you guys! :)
And just in case you didn't win this one, tomorrow I'm announcing another giveaway for a Sephora gift set:
Have a great night everyone!